The Miss Mouse Tea Pot House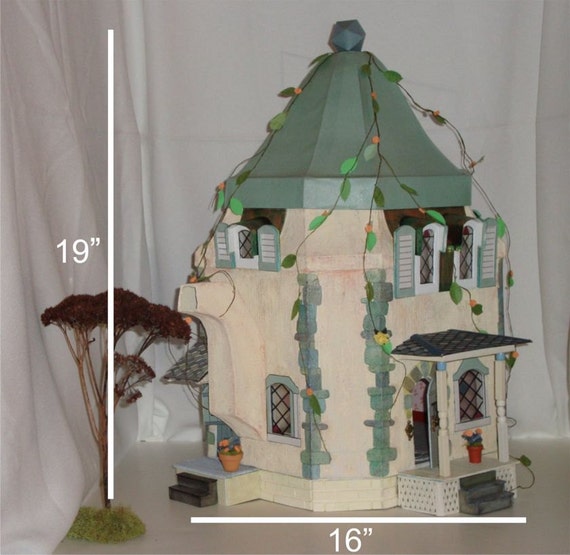 To purchase The Miss Mouse Tea Pot House go to
https://www.etsy.com/shop/DollHousePrinties
The Miss Mouse Story
There is a story to my Mouse House. Many years ago I began to have a fascination for Mouse Houses. For a while about 35 years ago I made them and sold them. They were made of scrap wood and looked very rustic. People actually bought them. One year I made a Gingerbread Mouse House. Real gingerbread to bring to my mother-in-laws Christmas party. It had two stories and the upstairs was an attic. There was a bed and dresser, a little mouse curled up under a quilt on the bed and other things that you would find in a Gingerbread Mouses bedroom. Downstairs there was a table and a couch and other furniture. All made of real gingerbread. Everyone loved it and one of the aunts took it home to save it. Sadly it didn't last and after a few weeks the icing melted a bit and everything started sliding apart.
When I married my second husband and we bought a house, I decided to make a real mouse house. I choose half scale because it wouldn't take up much room. I had been thinking of a story of an older lady mouse that lived in the woods so I decided that it would be her house.
This older lady mouse lived in a hollow tree trunk in the Green Woods. She had made quite a little home in this hollow log. There were a few pieces of furniture from an old dollhouse that she found in a deserted house and dragged to her log. She had two rugs that were from an old tee shirt and a dish cloth. She found those in the dump. Her name was Miss Mouse. Miss because she had never married. She had been in love once and engaged but he left for the Great Mouse War of 1876. He was never seen again. He was declared "missing in action" and given a medal for mouse bravery. She had the medal on her matchbox dresser. His name was Marvin. She often thought of Marvin but it had been so many years that she could hardly remember what his face looked like. That made her very sad. She wished there were such a thing as a mouse camera so she could have had a picture of him but sadly there was not. One night as she sat in her rocking chair listening to the wind howl through the knothole window. She saw a bright blue light. Lightning she thought, very afraid. Then she heard a very loud noise, like a crack followed by a crackle and she smelled smoke. Oh, my goodness. She was so afraid. She knew that her hollow log was on fire. She scurried around trying to collect some of her things. Her warm shawl, the medal, Marvin's old cap that he had left when he went to war. Then she saw flames and she knew she had to get out of her log very fast so she ran through the kitchen knothole door and into the woods. It was raining very hard but the log was dry and old and burned very brightly. She took shelter under a large leaf. She tried very hard not to cry but the tears came anyway. What a horrible night this was. All she had in the world was burning. What would she do?
I will try to continue this tomorrow night.
Perhaps if someone reads this they will comment.
This is a picture of the kitchen of The Miss Mouse Tea Pot House. The furniture and the house are for sale on my Etsy site.
https://www.etsy.com/shop/DollHousePrinties
The Kitchen of the Miss Mouse House