The Easy Pendant Roller
Make your own beautiful jewelry.
The Pendant Roller
Go to the url below to find out even more about The Pendant Roller
http://papercrafts.homestead.com/pendant-roller.html
This is the new Easy Pendant Roller. With it you can make many beautiful pieces of jewelry.
I have pictures some of the pieces that I made pictured below. There are so many things you can craft on this.
Attention Miniature makers.
I am going to start experimenting with this machine making miniature dollhouse accessories. I am sure that I can make little dishes, cups, pots and pans and all kinds of other mini things with it. I would love to hear your ideas Meanwhile I show below some of the Pendants I have made.
On the right. this is where you roll Pendants.
It comes with three different Roller Pins. You can also roll long Paper Beads with it. I use it to roll what I call Cylinder Beads which are long Paper Beads that have a hollow center. I used some of these to make little pendants to hold tiny things.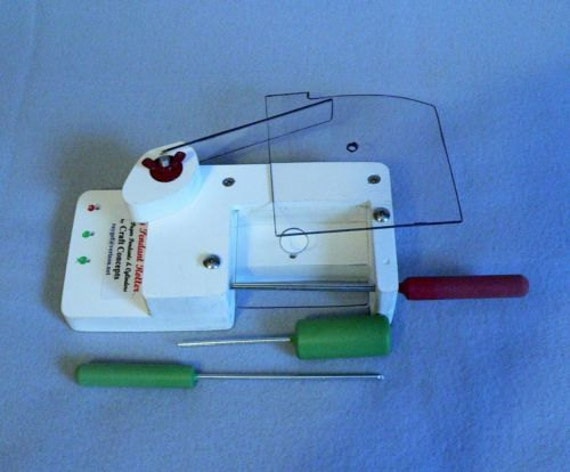 The Pendant roller ready to make long Paper Beads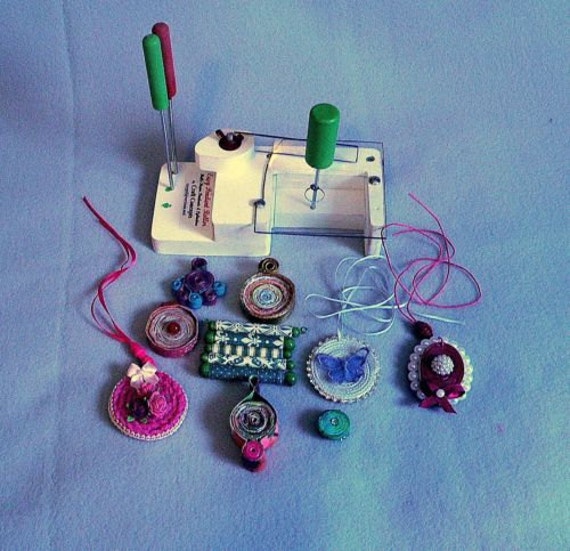 In the above picture you can see The Pendant Roller with the lexan cover plate turned back so that long Paper Beads can be made. I invented this machine so that myself and other craft people could make lots of wonderful things from paper. I have been making things from paper for many, many years and it is just recently that it has become so popular.
You are all so clever. Go to

http://pinterest.com

and search for Paper Beads and Paper Jewelry. You will be amazed at what you will find.
You can make anything from paper. I know, I have.
The Pendant Roller is for sale on
This pendant was made from rolled different colors of card stock strips. The outer edge is a wider strip and the inside part was covered in Mod Podge. The outer strip and the curl for the chain or ribbon is covered with a press-on foil. Very easy to do.
Many different pendants can be made this way.
This pendant is made from ribbed ribbon that is folded in half and glued, Then rolled on the Pendant Roller and shaped into and oval afterward. It is glued at the end of the roll and a cardboard oval is glued to the bottom. The cardboard oval is about a quarter of an inch larger than the pendant. Pearls are then glued around the pendant. A paper bead is put on the top of the string after the string is attached. A pearl button is glued into the center. A a bitty bow and isn't it charming.
I love this pendant. It is made from silver flecked cord bought in the craft department. The cord is rolled on a circle of cardboard and glued down as it is rolled. A circle of rhinestone chain is glued around it and a pretty butterfly decorates the front.
This is a canvas book with the cover decorated with pretty things made with the Pendant Roller. On this cover you can see the beautiful paper roses you can roll with the Pendant Roller. Very easy to do. There will be directions and templates for doing these. There are two different kinds of roses. I am sure that you will find so many things to make with this machine.
This paper bag book cover is made like we used to make them for our school books. If you are of a certain age you will remember these or perhaps they are still done.
I decorated it with Pendants and Roses rolled with the Pendant Roller. A bit of lace and old ribbon, a vintage picture, a strip of corrugated cardboard rolled, a bit of rolled wire, and a paper doily. I think it is lovely.
This can be a cover for a journal. A few vintage pictures, some lace, a Cylinder Paper Bead with some ribbon hanging from it, and pretty things rolled on the Pendant Roller.
In the instructions I tell you of an online site where you can buy these pretty additions of lace, pictures and ribbons. I am just a customer. This is where I buy my little decorations. They have wonderful things.
A closeup of a rolled Rose with a velvet leaf by it.
This could be a book cover or and album cover or just a picture with a frame around it.
Pendants are made from card stock and heavy twine.
This pretty pink pendant is simply made of yarn crocheted into a chain and rolled on the Pendant Roller. It has a trim of fancy ribbon around it and a coating of Mod Podge. The ribbon roses add a nice touch. Paper beads hold the ribbon together on the top.
This pendant is made from a vintage graphic glued to 1/8" foam core board or thin card board and surrounded with Cylinder Beads made from card stock on the Cylinder Roller and Long Paper Bead Roller part of the Pendant Roller. Pearls are glued in the corners. I think this would be really pretty if worn with a white dress.
A 3D card made with rolled paper Roses, Paper Beads and Paper Pendants. Even the crocheted gold chain is curled on the Pendant Roller.
The top Rose is the simple version.
You can see that I have been very busy. I love doing it. As all you crafters know, it is a labor of love.
Yours sincerely Barbara